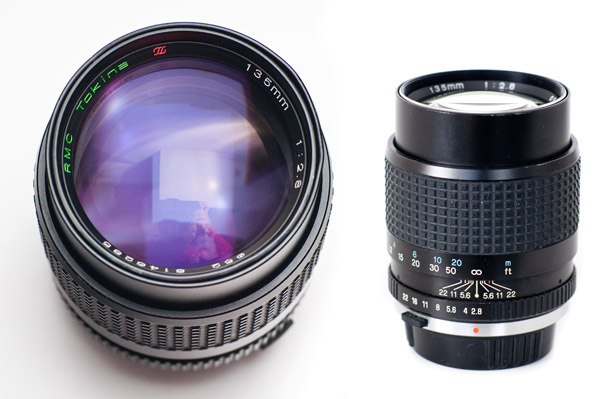 Tokina RMC 135mm f/2.8 lens (image source)
This old lens was a gift from a friend of a friend. It didn't take long for me to buy an adapter so it would fit to my Canon. Right away I did some test shots in my house using my DSLR. I was not super stoked on it and pretty much just set it aside for a few months before I decided to shoot half a roll on my SLR. The outdoor portrait shots were way better. And this is a good lens I'll keep around. Small, light in weight, and really good for portraits. But I lose AF, not bad because the focus ring is very good, and I lose light metering. That second part is not so bad either but does slow down my shooting because I resort to a free phone app that calls its self a light meter to calculate exposure settings.
Anyway, only 50% chance this would come on tour with me. But maybe, it is build tough enough.
Cost: Free +$30 for adapter. I did see a couple on eBay for $50.
Made in Japan