Sept. 20th. Day 51
Short riding day. 25 miles into town from Grand Isle SP. It took me a while because I was lazy to leave the lean-to. Lyndon had left before I woke up. As I woke I could hear rain on the roof and gravel by the fire pit. I was in no big hurry.
I did pack up and gear up for the rain. A light rain but the kind were I could not tell if it would stop. I rode 20 miles at 10 mph and included some stops before the rain quit. Like all day yesterday, and the night ride out of the city, I was just in my walking shoes. I have not wore my road shoes since before getting doored. They are too worn out. The carbon soles are pealing away from the shoe and every morning I've been too lazy to change shoes for a ride I know will be slow and wobbly.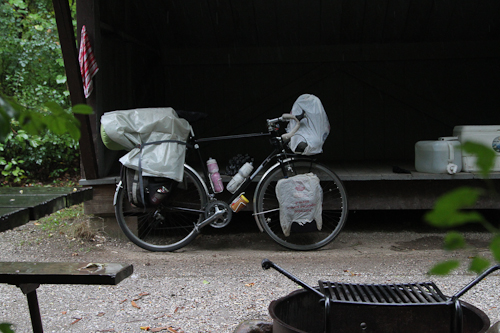 A few more miles into the city. And straight to the cafe, @MaglianeroCafe. Ordered a regular black coffee (fancy made to order and wait, they bring it you you when done), plug in the iPod, and start figuring things out. I had a list of to-dos. Got them all done.
Walked around town. Found the pol0 court. Around 6 I went back to the cafe and took a shower. So cool they have a shower! It's like one of those places that anyone touring near the city would have to go to. Good coffee for not too much. Very bike friendly. The place had a half pipe inside and a good amount of tables for the laptop types and a book shelf and bike storage and indoor bike parking and a play area for children. And snacks. Also the people working there are nice and talkative. Good spot.
I'm going to take a rest break now. I deserve it and my wheel needs some attention.
I showered and got a cold coffee to go(mostly to buy something because he didn't charge me for the shower, would have been $1 but I had my own towel).
Scouted by the river bike path north of town but changed my mind and went back into town and scouted some more. Got some local advice and found something so-far-so-go. But it's only 8:45p and I've been set up for about 30min.
Hope I'm good because I can be seen easy. But it's real quite here so far.
Dang man. Just as I type that a loud ass jet took off from a runway. Guess I'm near the airport. Oh well.