Wed 9/21/11. Day 52
Rest day, bus and train to NYC.
Dropped bike off at a acquaintances apt. Grab busted front wheel and a few clothes. Amtrak to Penn station.
A girl named Diamond who has Wayne as her ringtone sat near me.
9 hours on a bus and train. The train was nicer.
Once in the city I took another train to BMW to grab my other bike and hang with Ken. Waiting for me were a new pair of Bontrager RXL Road shoes thanks to a friend at Trek Bicycles.
After that I went straight to a good pizza spot. Then met up with JT, Crihs and Dwain. They were getting ready to go to Boston for the East Coast Messenger Stage Race.
From there I rode to Crown Heights to see Matt and Bayla and Allison too. Slept on the living room floor.
Thur 9/22/11. Day 53
Errands in Brooklyn. Call for rain, but none.
Pick up things from storage.
Visit Outlier to size down into new pants and shorts.
Brooklyn Machine Works to pick up and deliver tubing owed to Horse Cycles.
Pancakes and coffee and donuts at Pies N Thighs.
Dropped off film rolls for processing.
Back to BMW to install new pedal cleats onto new Bontrager RXL Road shoes.
Lunch was pizza.
Dinner was pizza.
I really miss NY pizza.
Downtown to return apt keys to Matt.
Saw Wall St protest march on B'way.
Chatted with Tim and his bro at The Pit.
Went to Canal St to get on Chinatown bus to Dayton, OH.
Brought the iPod, forgot the headphones.
Fri 9/23/11. Day 54
10 and a half hours later I'm in Dayton before 9am and see the rain and the "all day" forecast.
About 5pm I rode to Dayton.
Had coffee. Ate a big pasta dinner. Played ping pong. Twords.
Sat 9/24/11 Day 55
Woke up early. 9am. Ate breakfast. Went back to sleep. Woke up at 1:30.
Coffee shop. Rode around the city to look at roads with Lee.
Bought map. Ate leftover pasta.
Went to race start. Paid $25. Got check points. Pre-rode some and met at 8pm for the race start.
Fell in my new shoes because of the tiles. I went one way and all other racers went another. Good for me. Rode to 11 spots and then finish in 52 min and second was over 20 later. I won. And the prize was a good pay off. Then just hung out with everyone. Till late.
Sun 9/25/11 Day 56
Thought there might be pol0 but just hung out and went to the Octoberfest by the Dayton Art Institute. Was there for a while. After ate dinner at Thai Nine with Dana, Brett, Jenell, Maggie.
After went to Century. And then it rained on my way back to where I was staying. Not a fun ride home.
Mon 9/26/11 Day 57
Didn't do much more than eat, ride around the east side w camera, and drink coffee. At night I watched a movie with the Barkers.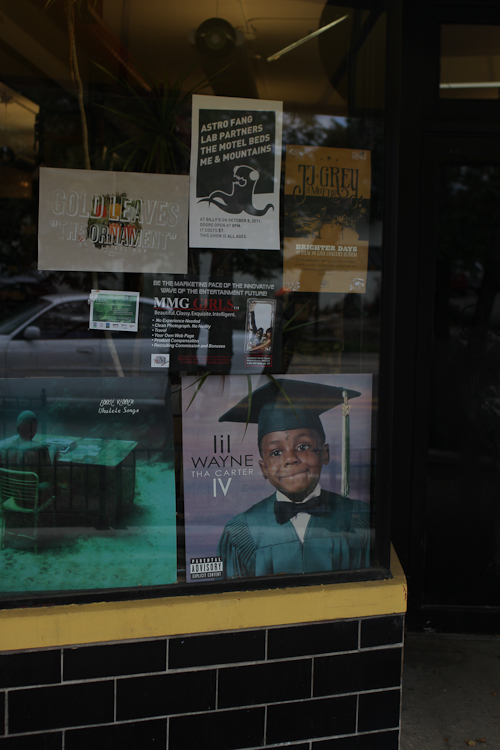 Tue 9/27/11 Day 58
Chilled at Press drinking coffee for the first part of the day. A 18 mile ride to see the family in the afternoon.
Dinner with mom at her favorite Mexican restaurant.
After we picked up my things so she could drop me off at the bus but in the time in-between we went to look at the house I grew up in. Then we picked up my brother from work and visited his house to see his baby daughter.
Got on the bus around 11pm.
Wed 9/28/11 day 59
Woke up early in the morning because the driver was doing some strange things. Tried to get as much sleep as possible because I knew I'd be up all day and maybe out late and in less than 24 hours I'd be getting on a train to VT.
Ate breakfast at pies n thighs made the trip to get the replacement wheel. Of course I forgot to transfer the computer magnet so now I need to figure that out so I can still tally my mileage. Back to BMW to drop off my track bike. And walked to meet chris and go to a dinner at robertas. After I went to a sports bar and watched baseball with them. We stayed out a little late but I slept on the couch of his girlfriend after we all called it a night. It was fun. I was missing being around friends in NYC.
Thurs 9/29/11 day 60
I had set an alarm but it was set on vibrated only so I woke up 30 min late. Luck I only took off my shoes before bed because that's all I did when I woke up. Shoes on, grab bags, out the door.
Rushed to train. Transfer to uptown train. Find Amtrak inside Penn Station. Made it just barely.
Slept some on the ride but watched out the window some too. Nice to have outlets for each seat. iPod the whole way. Remember waking up to a French language track. FF and back to sleep.
Port Kent, NY.
Ferry for $5.10 to Burlington.
Went to cafe. wifi. Lined up possible place to crash.
Realized I'd only ate a few snack things, no real food. And 3 coffees and no other beverages up to 6:45 when I left the cafe. It was raining now.
Walked to bar I was maybe going to maybe meet other pol0 players.
On the way spent $6 on a big plate of Chinese food.
At bar met a friendly guy, David. Not the one I was there to meet but still he was trying his best to find me a place to crash. After a bit was walking into bar next door and Rachel stood in front of me and said you must be doug.
Chilled for a bit and was offered a safe place to crash.
Tomorrow I'll get this straight wheel on my bike and not have to carry bags in my hands.
Late now. Tired.